The Micro Wedding
The Covid restriction that became a trend!
Over the past year, the Covid pandemic has caused a shift in Irish weddings. Couples having to have smaller weddings due to the restrictions has, without doubt, created a trend within the Irish wedding industry- the aptly named the Micro Wedding.
Prior to the pandemic, the average wedding in Ireland would consist of 170 guests and cost approximately €30,000. A day that would be spent mingling and greeting guests, meaning very little time for you as a couple.
The term Micro Wedding can, understandably, scare people. We immediately think of the sacrifices that must be made. We think about cutting back instead of adding on. Think of a Micro Wedding as a more intimate, cosy, and relaxed wedding that can have all the aspects of a big day whether you are going for a glamorous black-tie or rustic, boho day.
Less guests also means not having to cater for the tastes of everyone and focusing more on your favourite food and tastes. It allows you to have fun with it and maybe look at options that you would not have thought about for your big wedding.
We have put together a list of our top favourite foodie choices.
Food Truck
In the past few months, the food truck industry in Ireland has exploded. Coming in all styles with every type of food you can think of they have added a real sense of modernity to the culinary world in Ireland. And they also make for an extremely cool addition to your wedding day.
A food truck doesn't have to be just for the boho wedding, they are also perfect for a black-tie event. Think oysters, canapes and champagne- the options are endless when it comes to having a food truck on your special day.
They are perfect for arrival drinks and nibbles but also late-night bites like pizzas or fish and chip cones. They offer a massive amount of creativity with another popular and fun option being serving the couples favourite street food  for the ultimate backyard summer wedding.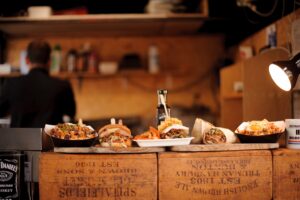 Over the year, we have served our Globe Traveller menu at these effortlessly cool weddings. The Globe Traveller menu includes Jerk Chicken, Tacos, Bahn Mi Sandwiches and falafel.
We also offer our Sea & Stout Food Truck, because what better way to celebrate an Irish wedding than with Guinness and Oysters! Perfect for a formal and informal wedding, it's a match made in foodie heaven.
Fine Dining
Not having to appease 170 palates, which is always going to be near impossible, means being able to push the limit a bit further than the traditional three course dinner of beef or salmon. It allows for an essence of luxury to be added to the day for a formal sitting.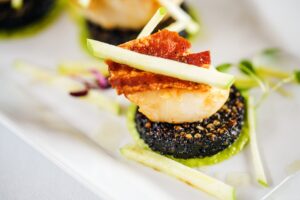 Forgo the three course meal for a six course dinner, adding a palate cleansing champagne sorbet, amuse bouche or even a cheese course of delicious Irish favourites. Finish up your dinner with a refreshing aperitif whether you have a favourite or simply just go for a smooth and elegant, ice cold Limencollo 
A Micro Wedding allows for that finer cut steak, the more expensive champagne and extras that can insert a lot of your personality into your day.
Family Style Sharing
Sharing platter are becoming more popular from weddings to restaurants across Ireland. Think catching up and laughing with your loved ones while grazing over shared platters of delicious food.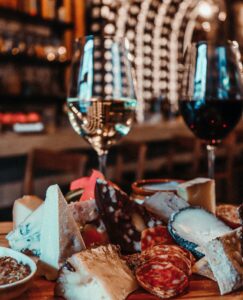 We have found that this is one of the most popular options. In the past we have offered antipasti sharing boards as a starter or seafood platters of beautifully locally sourced fish, boards of meats and all the trimmings. We can organise to have one of the people at your table carve the meat, or it can come pre-carved, with aprons being provided so there will be no stains on those white shirts or dresses!
There is nothing more joyous than laughing and chatting over delicious food with your loved ones, especially after the year we have all had.
BBQ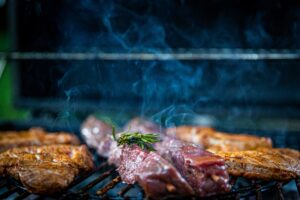 BBQ's aren't just for day two!
We are talking about burgers or chicken kebabs here, we are talking about BBQ Sea Bass & Prawns, Steak and Lamb with an array of luxurious sides. And why not add canapes on the arrival of your guests to really elevate the dining experience.
At The Right Catering Company, we offer all of the above and more. Having won awards for our service and experience in the wedding industry, our wedding planners are at hand to work with you through planning your perfect Micro Wedding.